North Star Field Locations
This is where you can find the locations of the SAY North Star soccer fields.
Field Location Map
The map below shows the locations for each of the SAY North Star area soccer fields. Click on a marker to see more information about the soccer field. In the popup, click on " Directions" to go to Google Maps for driving directions.
Fall 2020 season will take place using fields at the St. Marys Airport Soccer Facility.

View SAY Northstar League Field Locations in a larger map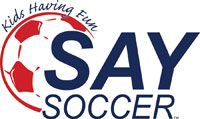 The St. Marys Soccer Association is a part of the North Star Soccer League and operates under the Soccer Association for Youth, USA (SAY Soccer).
The SAY Soccer was founded in 1967 in Cincinnati, Ohio where it remains nationally based today. SAY provides a wide array of services and support to our members including but not limited to insurance, coaching and referee support, legal and administrative support, US Soccer Affiliation,publications for all members, Online Store, and an opportunity for children to experience the game of soccer in fun safe environment. SAY Soccer is The Leader in Recreational Soccer Support.